Don't have enough orders even after repeatedly sharing on Whatsapp? It's time to try a new channel to market your store! An Instagram Business Page is easy to create, has multiple useful features and is an extremely convenient way to reach out to more people who could be potential customers. Not only is it a great platform but also one of the most consumed channels with over 1 billion users.
"Today I have 4000 followers on Instagram and make about INR 25000 a month, every time a follower shops from my store I make 25% commision" – Debasmita Sengupta, Top Store Owner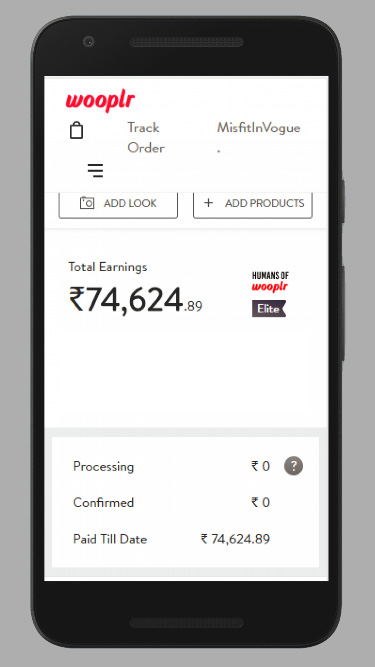 How to Use Instagram to Make Big Money
Here is an 8 step process you can follow to use Instagram effectively for your Wooplr store.
Set up an Instagram Business page & Put a suitable description for your store, explain the benefits. For instance, COD and Returns available. Deliver Pan India

Post relevant products, highlight what's trending.

Provide a detailed description for each product such as available sizes, delivery options, fabric etc.

Ask them to DM for more details.

List your business number or email address, this way your customer can reach out to you faster

Always get feedback from customers and repost their picture testimonials, this gives your account more credibility.

Giveaways are a great way to get more followers and keep customers happy and engaged.

Keep in constant touch with customers from when they place the order until they receive it.

Promotions. If possible, promote best-selling products once a week. Promotions are a great way to drive traffic directly to your store.

Create a hashtag for your store. This helps your customers feel like they're part of a close knit community & your search results improve.

Hashtags improve your search results.

Many people do research by searching on specific hashtags. By using the hashtags that are of interest to your ideal customer, you can increase the chances of being found. 

You can double your engagement and increase clickthrough rates by including hashtags. Use popular, established hashtags. For instance #instafashion #fashion #sale #trending #outfit. 

Remember to put your store link in your bio. This is an effective Call-to-Action for your page visitors and to convert them to customers.
Ready to get more orders?