Imagine sitting at home, forwarding pictures on WhatsApp and getting orders. You don't even have to move from your couch. Your contacts will place cash orders and Wooplr will deliver. You can just sit back, relax, and get paid for every sale made. Believe it or not, it is that simple. You can run a complete business just from your phone. 

Download the Wooplr App, sign in, and your business is ready. And you already have the WhatsApp App. That's all you need to start selling. Now Follow 3-steps:
Find the best catalog for your customers.

Download the catalog and description.

Share on WhatsApp.

1.Sharing personally with your contact – Suppose you found a perfect T-shirt for a friend who is a plus size then this is how you share:.
Click on the WhatsApp share button next to the product image.
2.Download the catalog pictures
3.Your friend may like to know more about the T-shirt. There is also a great description of that T-shirt already written. Share that too.
Remember 4 things:
Provide him maximum details

– Your friend would like to know more about the product. Share all the details with them. You can say something like – This T-shirt is

pure cotton

,

available in all sizes

, for

Rs 499 only

. And if you

order today

, you can also get

an extra 10% discount

. Customers appreciate this

personal touch

.

Tell him about COD

– Tell your friend that payment is very easy. They can pay

cash on delivery (COD)

if they want. They can order now and pay when they have the product in their hands. This

builds trust

and the customer will return to buy more.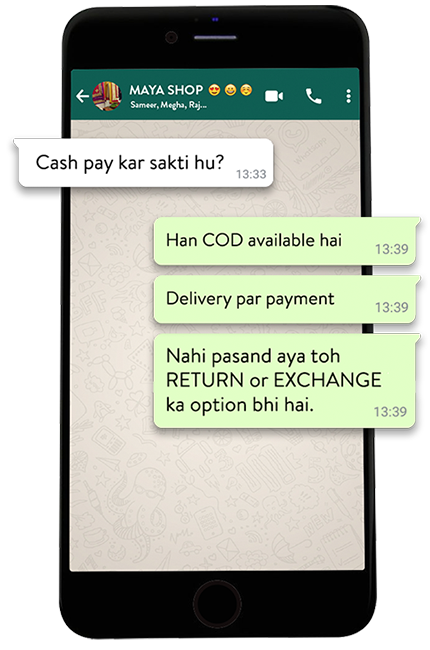 3. Tell him about return policy – Your friend may still be confused. He may feel that if the product is bad, how would he get an exchange. Or can he get his money back. Tell them that the return policy is simple. If they don't like the product, it can be exchanged or money returned. No issues at all. This will make your friend more confident about ordering.
4. Show him variety – Your friend may not like that T-shirt. But don't worry, share some more with him. You can share 10-15 different T-shirts with him. Your friend will think that you have a large collection with you. They will feel more interested. They will think that you are a genuine supplier.
Even if they don't buy the T-shirt you shared the first time they will go through your collection. And they may end up buying something else later. See, just by sharing details and photos on WhatsApp, you have made a sale. 
 Sharing in WhatsApp groups

– The first thing you can do is share catalogs with your friends about the product. If they like it, you can ask them if they want to be a part of a WhatsApp group where you share regularly.

Just send them an invitation with a catchy title

.
Inviting people to join the group via invite is the best way to do it. If you simply add people to a group, they will start leaving the group. But an invite will excite them to be a part of your group given your invitation message is attractive.
After you have created a WhatsApp Group, say 'New Trends', click on the options (the three little dots on the top-right corner). Click on Group Info. There you will find the option of 'Invite Via Link', click on it. A WhatsApp invite link is generated. You can directly share this link with your contacts. Interested people can join the group by clicking on that link.
Don't forget to make different groups for different categories. For example, a group for women in your apartment who have small kids, you can make a kids groups for them. If you go to the gym you can make a WhatsApp group with your gym friends and share sportswear. If you have a lot of friends who work, you can make a group and share office wear with them.
Browse the app and download the perfect catalog.

Share it in a group with less people, If you get a good response, share it with more people on facebook.

Once you have the groups ready. You can share your catalogs in the group.
Everyone will see and interested people will enquire.
3) WhatsApp Status – WhatsApp status update is a great way of sharing products with all your contacts. Suppose you found a great Kurti. Download the catalog and you will have the images on your phone.
Update your WhatsApp status with this picture with a small message like:

DM for more details
It will be visible to everyone in your contacts.

Anyone who is interested in buying will directly contact you for inquiries.

You can then share more details & offer your customer a good price.

Updating your status daily can help you make more sales.

It is also a good way of getting new leads. Someone who is not in your groups may see your status and inquire about the product.
Very Important: Timing
Do not share at odd times. People may ignore such shares.

Share when people are active on WhatsApp. For example, people have their lunch at 12 or 1 in the afternoon. They are free and are reading their messages.They have the time to read your share and also browse products while they are eating.

Or in the evening after 4 or 5. People are taking their snacks, talking to friends and colleagues, or relaxing. This is a good time to get their attention.
These are some of the simplest ways in which you can use WhatsApp to sell more. Make this a habit and your business will start growing. So, what are you waiting for? Get started now.